Laparoscopic & Cosmetic
Gynaecologist in Mumbai, Juhu
Dr. Chaitali Mahajan Trivedi
MD (Obstetrics & Gynaecology)
Dr. Chaitali Mahajan Trivedi graduated from Grant Medical college and Sir J. J. Hospital and also completed her MD in Obstetrics and Gynaecology at Grant Medical College, Sir J. J. Hospital, Mumbai. She underwent basic and advanced training in Laparoscopy and Hysteroscopy from France, Clermont Ferrand, Royal Free Hospital, London and BEAMS Hospital under the Late Dr. Rakesh Sinha for 2 years. She also underwent training in Non-Surgical and Surgical Cosmetic and Reconstructive Gynaecology at the Institute of Medical Aesthetics accredited by the Dubai Healthcare City. She holds the Guinness World record for removing the largest uterus of 4.1kg laparoscopically. These credentials make her the most trusted Cosmetic Gynaecologist in Juhu, Mumbai.
Dr. Chaitali has guided countless women regarding fertility problems & helped them with surgical as well as non-surgical gynaecological procedures. She is an expert in performing Hymenoplasty, Vaginoplasty, Labiaplasty, Monsplasty, Hysterectomy, and Endometriosis. Being a female Gynaecologist in Mumbai at Nanavati Hospital, she also provides a wide range of cosmetic procedures for genital rejuvenation such as skin brightening, non-surgical vaginal tightening & skin tags removal.
She makes sure to look after her patients really well. As a qualified Gynaecologist, Obstetrician, and Laparoscopic Surgeon (Obs & Gyn) in Mumbai, Dr. Chaitali has helped thousands of women in living happier and healthier life. She works closely with patients, providing them with accurate and helpful information concerning their health problems. She manages all forms of gynaecological, obstetrics, cosmetic gynaecology, and infertility issues, as the best female Gynaecologist in Mumbai.
Dr. Chaitali Mahajan Trivedi is one of the most trusted cosmetic gynaecologists in Mumbai. With her experience and advanced training, she delivers personalized treatment and the best quality care. As the best female Gynaecologist in Mumbai at Nanavati Hospital, Dr. Chaitali Mahajan Trivedi is always there to assist and provide the best treatment experience to her patients. She has years of experience in performing Hysterectomy treatment which is performed for females facing reproductive issues. Women suffering from problems related to ovarian cysts, endometriosis, and polypectomy can consult Dr. Chaitali. Also, many women these days face problems in conceiving or infertility issues. These issues include PCOS, cyst, fibroids growth, blocked fallopian tubes, scar tissue development in the pelvis, etc. Dr. Chaitali also has experience in treating such issues.
Her sheer commitment and dedication to serving women and helping them lead better life make her the best Gynaecologist in Mumbai Being a Gynaecologist/Obstetrician, she understands the additional factors linked with pregnancy. She follows all surgical treatments after thoroughly understanding the patient's history, and she proceeds with her diagnosis, medical tests, and treatment accordingly. So, those looking for the best Gynaecologist in Juhu (Mumbai) can book an appointment with Dr. Chaitali Mahajan Trivedi.
Why one should consult Dr. Chaitali Mahajan Trivedi, Gynecologist in Mumbai.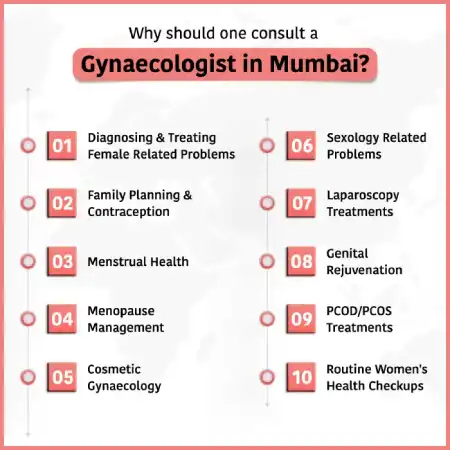 By definition, a Gynaecologist is a medical doctor who specializes in the health of the female reproductive organsSo, a Gynaecologist doctor helps in diagnosing and treating problems with the female reproductive system in women. Gynaecologist, unlike anybody else, has a complete understanding of women's health issues. A woman should begin seeing a Gynaecologist in her early adolescence to understand the changes her body is through and learn ways to cope with it. In general, a woman should see a Gynaecologist at least once a year for a regular check-up and to monitor symptoms that may be concerning.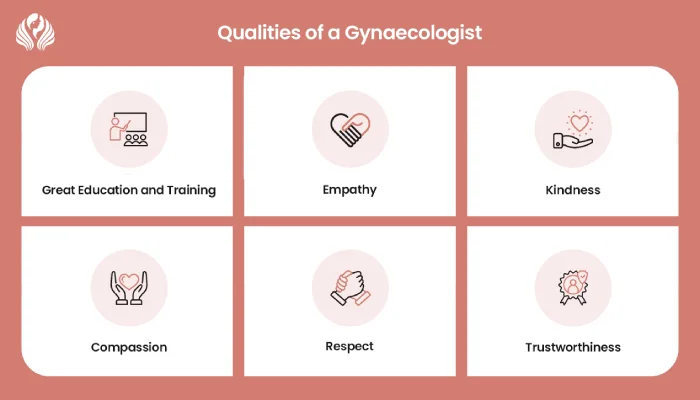 How do I choose the right gynaecologist for my needs?
You can select a gynaecologist based on your preferences and needs. Some tips to make the right choice are:
Look for a gynaecologist's credentials and reputation.
Know the accessibility and average wait times of the gynaecologist.
Choose a gynaecologist having expertise and a wealth of experience in the area of your concern.
See for the nature and communication style of the gynaecologist.
Seek recommendations from trusted people.
Check for the hospital in which the gynaecologist practices.
Read the patient reviews and testimonials.
Check for what collaborations the gynaecologist has.
See if the gynaecologist is up to date with technological advancements.
Choose the gynaecologist in Mumbai with whom you feel comfortable sharing your intimate details, concerns, and thoughts.
When to visit a gynaecologist?
A gynaecologist in Mumbai like Dr. Chaitali Mahajan Trivedi can help diagnose and treat patients with issues related to their female reproductive organs. It is recommended to visit a gynaecologist for an annual screening of female reproductive health, starting at the onset of puberty. Otherwise, a gynaecologist must be seen when an individual is experiencing symptoms such as vulvar, pelvic, and vaginal pain or unusual uterine anomalies. The common conditions that a gynaecologist can address include:
PCOD
Issues with menstruation, pregnancy, fertility, and menopause
Urinary and faecal incontinence
Sexual dysfunction
Tumours or cancers
Gynaecology emergency care
Congenital anomalies of the female reproductive tract
STIs
Premalignant conditions.
How Often Should Women See Their Gynaecologists?
Teenage girls and women are all recommended to see their gynaecologists in Mumbai at least annually to get their reproductive health screened for any issues. But for women who are aged above 45 years, an annual visit to a gynaecologist is a must for a full internal and external check-up. Otherwise, the frequency of visits to a gynaecologist would depend upon what gynaecological problem women are suffering from and it is of what severity.
What services does a gynaecologist provide?
A gynaecologist in Mumbai, Dr. Chaitali Mahajan Trivedi provides female reproductive health and sexual health services. These include well-woman exams like PAP smear tests, pelvic exams, cancer screenings, and testing for vaginal infections. They can diagnose and treat reproductive health issues like endometriosis, PCOD, infertility, and pelvic pain. They may even take good care of people with cervical, ovarian, and other reproductive cancers. Some gynaecologists even provide obstetrician services that are related to pregnancy and childbirth including prenatal care, contraception, and more.
9 Reasons to See an OB/GYN before Age 18
Puberty can be challenging.
Periods can be confusing.
Periods can be painful or heavy.
Bleeding can occur between periods.
Premenstrual syndrome (PMS) can be annoying.
Vaginal itching, discharge or odor shouldn't be ignored.
Urinary tract infections need prompt care.
Hormone surges can cause body changes, like acne.
Reproductive health is important.